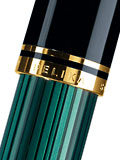 Large size of super-classic Souveran model


S

OUVERÄN

800
Dimensions:
closed mm. 142
open with cap posted back: mm. 163
diameter mm. 131
weight gr. 28,2
The model 800 is the large size of Souverän.
Classic shape, definitely large size, it's a pen suitable for man's hands.
The green striped model is the same in all sizes (400, 600, 800, 1000) for one of the most wellknown models in fountain pen's history.


Barrel made in cellulose acetate, with the same Pelikan recipe of '50s; the raw material cotton is processed through many different steps until it is shaped into a striped sheet, then formed into the right shape, cut and sanded with a diamond.
The Souverän was produced in red stripes, with the same process, as well as in blue stripes.


All the Souverän 800 feature the differentiated piston filling mechanism. Introduced by Pelikan in 1929, it causes the spindle inside the fountain pen to turn quicker than the end piece of the barrel, with the help of two different threads.
The 18 Kt gold nib, bicolor, refined with rhodium decor, is tested by hand.
Rings and clip are 24 kt gold plated; the clip is slightly springy and shows its famous, stylized pelican's beak shape.
La Souverän 600 is available also in capped roller version, still black cap and striped body, for all the3 colors.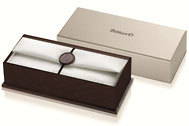 All Souverän fountain pens and rollerballs come in a rectangular elegant box, with a complimentary pencase.