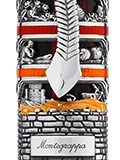 Dante Alighieri's Inferno (Hell) represented in sterling silver by Montegrappa


D

ANTE -

I

NFERNO



Limited Edition
333 fountain pens
333 rollers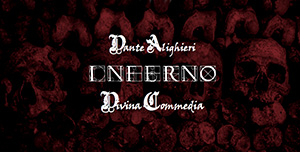 "Midway upon the journey of our life
I found myself within a forest dark,
For the straightforward pathway had been lost.
Ah me! How hard a thing it is to say
What was this forest savage, rough, and stern,
Which in the very thought renews the fear"
Montegrappa celebrates Dante Alighieri in the 700th anniversary from his death, starting from the most terrifying book of his Divine Comedy: Inferno.
Dante - Inferno
The sumptuous and magnificent Montegrappa Inferno pen is a handcrafted masterpiece of micro-sculpture, made of sterling silver and a special Montegrappite streaked resin, "magma" colour.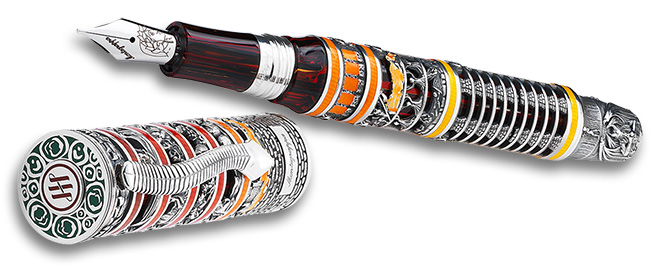 The body and cap tell with elaborate and meticulous detail the journey undertaken by Dante to the bottom of hell, through the nine circles, all represented with sophisticated silver micro-sculptures created with the ancient artisan technique of lost-wax casting.
On the cap we find the forest, then Limbo, the Acheron river to descend into Hell, and the sins of the incontinent: lust, gluttony, greed and wrath. On the barrel, the most serious sins: heresy, violence, fraud and treachery.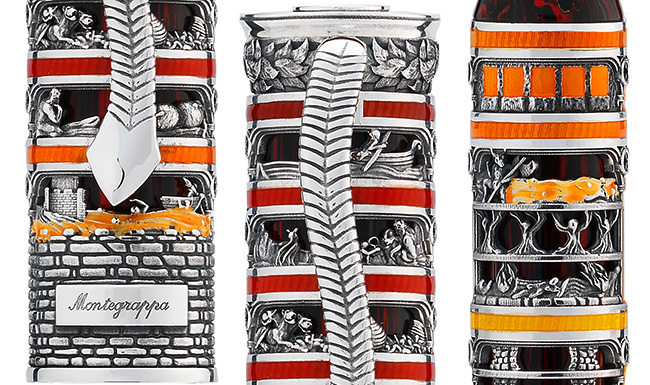 Lucifer is depicted on the bottom, in the act of incessantly chewing Judas. His tail, jointed and pointed, emerges from the cap to appear as a clip from the pocket, with a demonic appearance.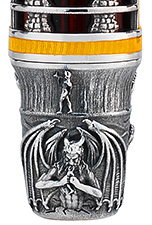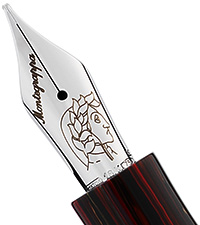 A special box, inspired by an antique edition in embossed leather, houses the pen with a band decorated with the warning "Lasciate ogni speranza voi ch'entrate" (Abandon hope, ye who enter here)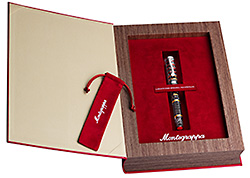 Filling system: piston
Nib: 18 Kt white gold, personalized with Dant Alighieri's profile.
Feeder: ebonite.
Dimensions:
Length, closed: mm. 149
Diameter: mm. 20
Weight: 125 g.
The numbers of the limited edition (333 for the silver version) are a tribute to the structure of the poem, written in chained triplets.
The Divine Comedy is universally recognised as a classic of world literature and is considered the work that gave birth to the Italian language.