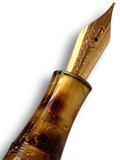 Slightly translucent resin with amber-honey tones in oversize version


E

TRURIA

M

AGNIFICA
The Etruria collection is a great Stipula classic, characterized by its ovoid shape, reminiscent of the sphericity of Etruscan amphorae, from which it draws inspiration also for the decorative elements: finely chiselled stylized leaves, Stipula's symbol, which decorate the clip and the central band. An invitation to lightness and delight, also in writing.
Over the years many versions of Etruria have been produced: regular and limited editions, in celluloid, in gold, in marbled resins, and also demonstrators.
Etruria Magnifica is definitely oversize but at the same time it remains light and handy.
Etruria Magnifica Miele Selvatico
The Etruria Magnifica fountain pen in the Miele Selvatico colour (= wild honey) is made of slightly translucent resin, in honey tones, light and dark, with irregular stains and messy straws on the surface that let you feel the depth of the material.

Clip and trims made of gold plated metal, matt and glossy.
Gold plated nib , aa F, M, Stub 1.1; but also as V-FLEX unique size, a calligraphic nib with an increased cut and very high flexibility of stroke. The V-Flex nib starts from a F/M with light pressure, to arrive at stub just weighing your hand.
Cartridge/converter (or piston) filling system.

In addition to the steel nib, there is the chance to ask for the pen equipped with the T-FLEX titanium nib, that gives great performance in terms of accuracy, flexibility and lightness, allows a perfect writing. It's a calligraphic nib as well, with F/M tip, and meets whatever a pressure.
Or, also the classic 14 Kt gold nib, with a very wide choice of grades: starting from UF (UltraFine) and EF (ExtraFine), to F, M, B, and to 0.9 Stub and 1.1 Stub, with an extra fee based on the steel nibbed price.
The Etruria magnifica Miele Selvatico fountain pen is now produced also with piston filling system (instead of converter). Same model and size.
Etruria Magnifica Pirite
Same model and size, rhodium plated finishings, instead of golden. Converter filled.