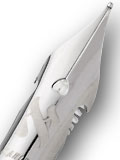 The Aleph pen features a special flex steel nib


A

LEPH
Aleph


is the first letter
of Phoenician and
Hebrew
alphabet
The Aleph pen is made by Marlen pearly shaded grey resin, but also in plain black and shady translucent red; all with rhodiated trim.
Regular size, clean design, simple and sober decorations: Aleph is definitely a daily use pen, handy and practical.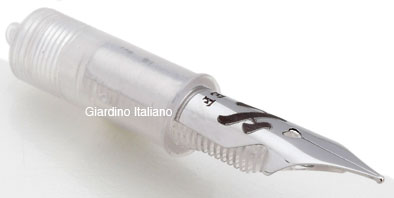 The great news is the nib:
it's made in spring steel, that guarantees a good memory-effect for medium flexibility (1,00-1,50 mm).
Its sinuous shape feature two indents at sides, which are not only attractive, but also functional, because they limit the strength needed to flex the nib.
The nib is engraved with the Aleph letter symbol, and its airing central hole is heart-shaped.
You'll be surprised by its feeder: it's transparent, and gives colored glares if you use a not-black ink.
Piston filling system

Sizes:
Length of the pen, closed mm. 143
Length of the pen, open: mm. 135
Diameter max: mm. 14
Description
Color
Version
Price €
Our order form will calculate the shipping costs, which depend on weight, destination and carrier or mail.