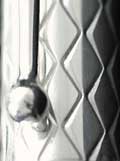 sterling silver cap and body, Guillochè decored,


R

IFLESSI
Optima Riflessi is a unique and valuable object, with a classic design, embellished by a delicate geometric pattern, etched with Guillochè technique. The special finish creates the precious, sparkling reflections, ideal for a distinct, refined style.
The Guillochè technique
Guilloché (Guilloche), is an engraving technique in which a very precise intricate repetitive pattern or design composed by thin wavy lines is mechanically etched into an underlying material. Specifically, it involves a technique of engine turning, called guilloché in French after the French engineer "Guillot", who invented a machine "that could scratch fine patterns and designs on metallic surfaces". The composition of lines, their deepness and angle can create fascinating sparks of reflected light.
The Riflessi collection
The diamond-shaped engraving of the extra-fine silver gives sparkling reflections(riflessi in Italian) to this writing instrument which give name the collection.



Fountain pen - Optima model - with piston filling and hidden reservoir system.
18 Kt gold nib


The collection includes fountain pen and capped roller, in two versions:
- sterling silver cap and body
- black body and sterling silver cap
The Aurora logo is engraved on the cap top, while the central ring features and elegantly engraved design, reminiscent of the pens of the 1930s.

Our order form calculates the shipping costs, which depend on weight, destination and carrier or mail.