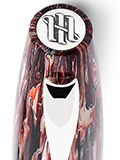 The Extra 1930 series in a new version, limited edition


E

XTRA

V

ERSES



Limited Edition
250 fountain pens
100 rollers
The Montegrappa's flagship pen was produced in a very limited edition to celebrate the mottos of the Latin philosophers.
Entirely handcrafted in Italy, with artisanal resin "Montegrappite", carefully carved; in a new color, rich in natural veins with burgundy shades, called Vinum Atrum (red wine, in Latin), to symbolize the leading role of centuries-old wisdom.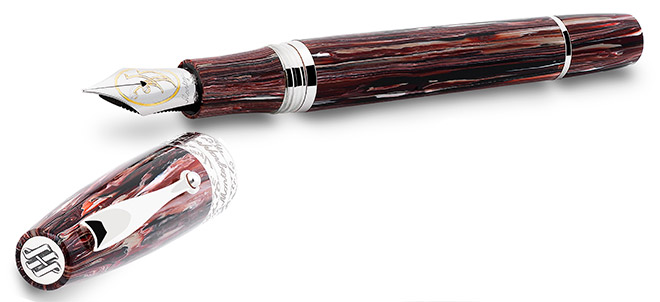 Sterling silver trims.
The central band of the cap is engraved with famous Latin verses from teh minds of Horace, Cicero and Seneca: from Carpe Diem (seize the day) to Vivere est cogitare (to live is to think), or to Historia magistra vitae (history is the teacher of live - this one so often forgotten by modern people).
Giant nib, bicolor 18 Kt gold, personalized, EF, F, M, B.
Piston filling system.



The Extra Verses collection has been made in fountain pen and roller.
Dimensions:
Length, closed: mm. 138
Diameter: mm. 16,5
Weight: 40 g.

Description
Color
Version
Price €
Extra Verses - L.E. fountain pen
Medium
€ 815.00
Extra Verses - L.E. roller
roller
€ 495.00
Our order form will calculate the shipping costs, which depend on weight, destination and carrier or mail.