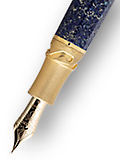 Lapis blue marble and vermeil, in pure Renaissance style.

IL
M

AGNIFICO -

L

APISLAZZULI



Limited Edition
188 fountain pens
188 rollers

Lorenzo de' Medici, known as The Magnificent (1449-1492), was the ruler of Florence during the golden age of Florentine Renaissance, enthusiastic patron of scholars and artists (such as Pico della Mirandola, Botticelli and Michelangelo).
Writer and poet himself, he was one of the most powerful politicians of Renaissance, for being the ideal humanist prince but also for his very capable and clever management of power and diplomacy.
As natural evolution of the Medici collection, Visconti dedicates a special limited edition to this great statesman of the XV Century.
For this pen, the blue color of lapis lazuli was used, because the greatest collection of lapis lazuli objects of all Europe was owned at the Medici court.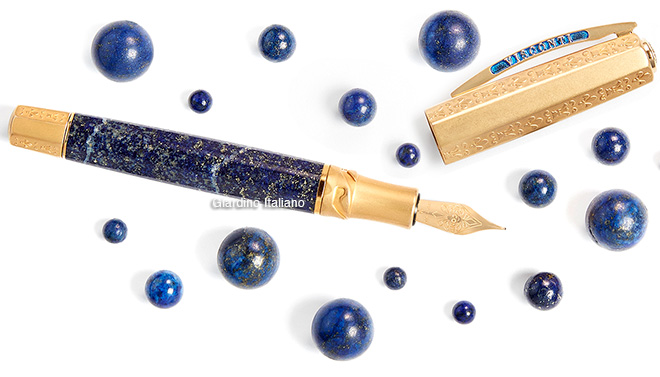 Lorenzo il Magnifico - Lapis lazuli
The pen embodies the essence of the Renaissance period, combining exclusive and precious elements: lapis lazuli and vermeil (that is sterling silver, plated with gold)
Lapis lazuli for the barrel, dappled and dotted deep blue, faceted in 8 sides as the Battistero in front of the Dome of Florence, that was completed during the rule of the Magnifico.



The cap is made with vermeil, finally chiseled with the old techniques handed down from Benvenuto Cellini, the most prestigious goldsmith and silversmith of the XVI Century.
The decoration of the cap, also repeated in the bottom, reminds the Florence's lily.
18 kt gold nib, available as F, M, B. It's also available with EF and Stub nib, with a small extra fee.
Piston filling: Power Filler.
Special locking cap system, that works by pushing and rotaring (Hook Safe Lock). Safe and pleasant to use.