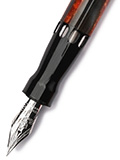 The Arco Firefox pen lights Pineider's Arco model on fire


A

RCO

F

IREFOX


Limited Edition
888 pieces
The Pineider Arco collection - from La Grande Bellezza series - is a limited edition inspired by the celluloid iridescence, yet being not celluloid.
The material of Arco is resin, with overlapping layers, which in the Firefox model are alternating red and black.
The turning of the plate with a specific angle (4 degrees) brings out the overlapping layers and enhances their natural iridescence and transparency.



The Arco Firefox fountain pen is piston filled and has a porthole-style inspection window in the black grip of the pen.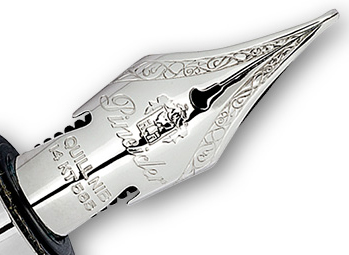 The 14Kt gold hyperflex nib stands out for its extraordinary ductility and excellent "memory" effect.  It's suitable for everyday use, shaped at sides for a better flexibility.
It's not a calligraphic nib, though, which had different characteristics; it just makes the pleasure of writing its strong point, because it allows a fluid stroke, which does not require any pressure, as the fountain pen was the extension of the hand.
The Arco Firefox pen, like other Pineider's Grande Bellezza pens, features a special  magnetic lockthat keeps the cap when it's closed and also open (on the back). A special Pineider patented magnet polarisation allows soft opening and safe closing.
The clip represents a quill, like all Pineider pens. (Each series of pens has a different clip, always inspired by the quill.)
Palladium plated trims.