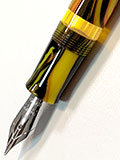 From Delta's historical archive, original Gallery pens recovered and serviced




G

ALLERY



NOS (New Old Stock)
is the acronym used to identify
vintage objects that never
left the factory,
and discontinued.
The Gallery collection was made by Delta in 2010, as a homage to Drip painting, a form of abstract art used since 1946 by various famous Americans artists who defined it as: "expressive power through material outbreaks in a frenetic vortex of signs".
Actually, the "frenetic vortex of signs" is perfectly viewable over all these pens, made of a special multicolor resin, turned by hand from solid rods; bright yellow background, very variegated, with orange, brown and black brushworks, and even green and caki shades.
Every pen is different each other.
They have been recovered from Delta's historical archive, already individually numbered; they have been disassembled and overhauled, equipped with the new Jowo 14Kt gold or steel nib, and tested one by one.
Offered at close-out prices.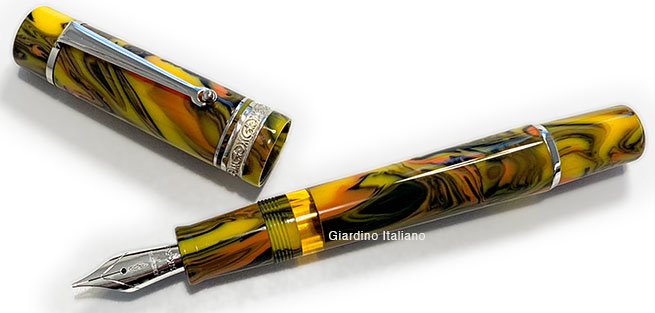 The Delta Gallery fountain pen is fully made with multicolor special resin, with rhodium finish and an amber transparent window for ink inspection.


The central ring is made of solid sterling silver. It's the same ring that characterizes the Dolcevita collection and that offers that "family feeling" common in many of Delta collections; engraved by hand and reproduces an old Roman décor featured in old paintings from Pompei.

The Delta logo is placed on the silver disc on the top of the cap.
Individually numbered, and all different each other.
The clip features a special mechanism to facilitate the placing in the pocket; it's made with a special metal alloy.
Filling system: piston.
Nib: new nib, rhodium plated steel or 14 Kt gold, available as EF, F, M, B, Stub 1.1, but also Flex F and Flex EF.