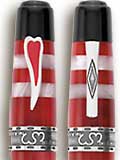 Dedicated to lovers, in two different models: for her and for him


M

ON

A

MOUR

Love is a mix of emotions and experiences related to a sense of strong affection or profound oneness. The meaning of love varies relative to context. Romantic, platonic, religious love, familial love, love for a soul or mind, love of laws and organizations, love for a body, for nature, love of food, of money, of power, love for learning, love of fame, for the respect of others, etc.
Marlen dedicates this Numbered Edition Mon Amour to lovers;
in fact it's realized in 2 versions "pour Homme" and "pour Femme" - for men and women - with special engravings or enamel ornaments representing the heart, symbol of love


"Pour Femme" features a heart-shaped clip with red enamel, and also enamel hearts in the pen ring



while the "pour Homme" version features a more serious clip and a clip without hearts, just with an engraved chain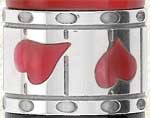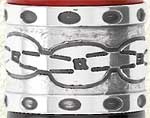 Fountain pen and roller are made with polished black resin, and bands and rings in pearly white and red resin.
Silver finishing.
Piston filling system,
14 Kt gold nib; or steel nib.
Sizes



large fountain pen, open: mm. 137
Pétite fountain pen, open: mm. 102
Mon Amour Pétite
Smaller size for the Pétite version, with the same "pour Homme" and "pour Femme" decorations, but the fountain pen is cartridge filled.
Steel nib.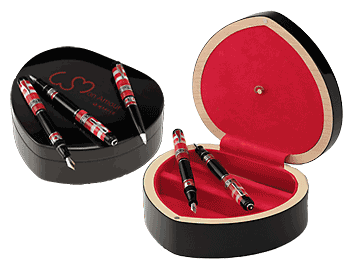 On request only: the new gorgeous packaging for Mon Amour pens may be this gorgeous heart shaped carillon-box, made in wood, lined with red velvet.
Opening the cover, the carillon starts with the Love Story melody.
This box can hold 2 pens maximum.