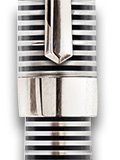 A few demonstrators with an innovative filling system


S

UPREMA



Limited Edition
351 fountain pens
each model The Suprema collection, completely re-projected from the early versions, is now a small jewel of mechanic. No glued elements, and each part can be disassembled for a deep cleaning.
It features the latest engineering invention: the "Torricelli Air Pump" filling system.
The air inside the chamber of the barrel is forced out through the channels in the nib feeder, and therefore ink is allowed to completely fill the transparent body.
High capacity reservoir, perfectly balanced pen, ease of maintenance.

Suprema Voyeur
Cap and body in "windowed" resin, alternating transparent and black stripes.



Palladium finish, grip and bottom in black resin. At the cap top, a small leave of the Stipula logo is placed, on relief.
Suprema Bikini al tramonto
Black resin cap, and sunset orange transparent body.



Palladium finish,grip and bottom in black resin, with a metal small leave of the Stipula logo placed at the cap top.
Suprema Nuda Rosé
Demonstrator fully transparent like crystal, with rosè gold plated finish.



Clip, band and rings are plated with rose gold: all other parts are completely transparent, to see all parts of the mechanism.
Each model is a Limited Edition of 351 pieces only, individually numbered.
The steel nib is available as F, M, and Stub 1.1; but also as V-FLEX unique size, a calligraphic nib with an increased cut and very high flexibility of stroke. The V-Flex nib starts from a F/M with light pressure, to arrive at stub just weighing your hand.
Otherwise, there is the T-FLEX titanium nib, that gives great performance in terms of accuracy, flexibility and lightness, allows a perfect writing. It's a calligraphic nib as well, with F/M tip, and meets whatever a pressure.
Or, also the classic 14 Kt gold nib, with a very wide choice of grades: starting from UF (UltraFine) and EF (ExtraFine), to F, M, B, and to 0.9 Stub and 1.1 Stub.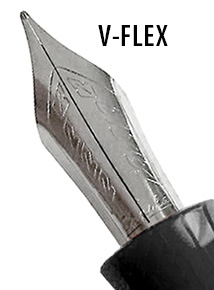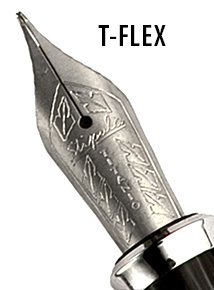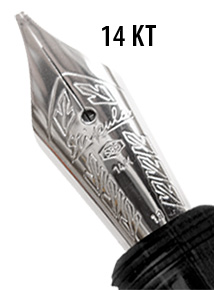 The price below is referred to the steel nib or V-Flex nib, that has the same price as steel.
You can order it with titanium T-Flex nib, or 14Kt gold nib, adding its extra-fee to the steel nibbed pen's price.