"Ognuno può avere una Model T del colore che preferisce purché sia nero".
Adesso anche a colori!


M

ODELLO

T
As Henry Ford used to say: "Any customer can have it painted any color that he wants so long as it is black".
This pen is inspired by the famous car introduced by Henry Ford in 1908, the so called "T- Model", born from the new idea to build simple and low cost cars, addressed to the mass market of American middle class families.
New nibs:
Steel V-FLEX and
Titanium T-FLEX
unique size - one fits all!
The reason of Ford's success was in reducing bulk costs: the mass production and the introduction of assembly lines.
The pen
The T Model fountain pen, with its dynamic and slender design, sober and elegant, has been conceived following the same principles that inspired the historical model.


Simple and solid in its black resin, expressly produced in one colour and version only, essential in its metal details that add, besides their functionalities, a touch of delicate and pure refinement.
The steel nib is available as F, M, and Stub 1.1; but also as V-FLEX unique size, a calligraphic nib with an increased cut and very high flexibility of stroke. The V-Flex nib starts from a F/M with light pressure, to arrive at stub just weighing your hand.
Otherwise, there is the T-FLEX titanium nib, that gives great performance in terms of accuracy, flexibility and lightness, allows a perfect writing. It's a calligraphic nib as well, with F/M tip, and meets whatever a pressure.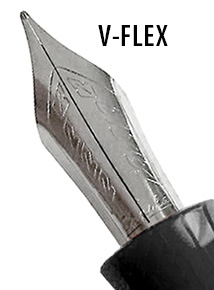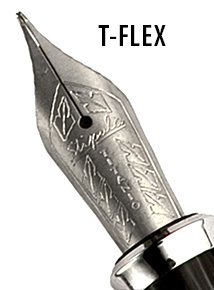 Not only total black
Model T has also been made in two versions of black: Grafite and Pirite.
Both have palladium finishing like the black version.
Black with gray veins, it's the Grafite version:


Black with beige veins, it's the Pirite version:


And recently also in colored resin: tanzanite Blue with rosé gold finish.


The pen offers all the characteristics of a very high quality fountain pen, but at a very accessible price to a wide public. A pen meant for everyone.
Fountain pens feature a triple filling system: direct, cartridges, converter (all included).
The package includes an eyedropper.
The normal price is for the steel nib (same price for the V-Flex).
The titanium T-Flex is purchasable with a small extra fee.