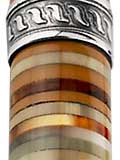 Made with multicolor small resin rings, hand glued and refined


A

NTICA

A

TELLA

In the V century B.C. Atella was the ancient name of the territory where now Marlen head office is located, in the South of Italy.
One of the masked characters typical of Atella was Maccus, the forerunner of Pulcinella, that is depicted in the silver clip's shape.



Limited Edition
988 silver piston fountain pens
888 silver key fountain pens
488 silver rollers
488 gold key fountain pens
The barrel of Antica Atella has been made with multicoloured Italian resin rings, each one hand glued and hand refined. Cap and grip are in black resin.

The clip depicts Maccus, one of the masked characters typical of Ayella was Maccus, the forerunner of Pulcinella - in sterling silver.
It's a regular size pen (mm. 135 closed, mm. 162 open capped, diameter mm. 17)
The silver versions fit a rhodiated 14 Kt gold nib; the gold version fits a 18 kt gold nib, EF, F, M, B, BB.
Antica Atella fountain pen is produced in two versions: piston filling system, or key lateral compression.

They key filled version has been realized both with sterling silver trims, or solid gold trims (clip, cap ring, barrel rings)
The key is made in sterling silver or vermeil.
A matching capped rollerball is available as well.
Our order form will calculate the shipping costs, which depend on weight, destination and carrier or mail.