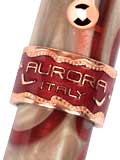 Variegated resin with red veins, like the Australian earth


O

CEANIA



Limited Edition
7500 fountain pens
7.500 ballpens
5.500 roller
999 Sketch pencils
After Afrika, Asia, Europa and America, Aurora closes its ideal tour of the world with Oceania.
The pen is made of sand-color resin and features red hues to recall sunburnt land and sunsets over Ayers Rock (Uluru).


Uluru is one of Australia's most recognisable natural landmarks, and it's notable for appearing to change colour at different times of the day and year, most notably when it glows red at dawn and sunset.


The casual design of mixed veins are always different; therefore, all pens are unique and different each other.
18 Kt rose gold nib, available as EF, F, M, B.
Filling system is mechanical piston with hidden reserve; and ink window on the barrel.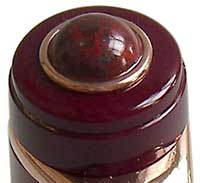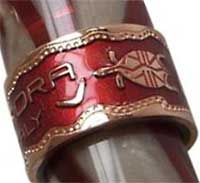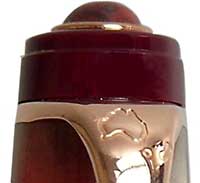 A cabochon jasper red gem is set at the cap top; the clip is engraved with the Oceania outline.
The central ring is red lacquered and decorated with the symbols of Oceania: a turtle (the oldest turtle in the world was Australian, and died in 1996, at 176!), a kangaroo, a boomerang and aNautilus shells, typical of Papua/New Guinea islands.
All the meatl trims are plated in rose gold.
A ballpen, a capped roller and a large-lead Sketch pencil match the collection.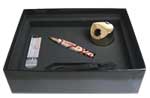 The large-lead Sketch pencil is avalable also in a gift package, which includes also a desk lead-sharpener, which is rose gold plated as well, plus a box of leads and a pen pouch.