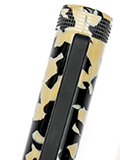 Austere and sculptural shapes for this Tibaldi pen


P

ERFECTA
Definitely minimalist, the Perfecta pen features austere and clean lines, without rings or metal ornaments.
The only decorative element is the squared engraving on the black barrel and at the top of the cap, like a homahe to the first Perfecta, made by Tibaldi in 1921.



All black, for a metropolitan allure, or bicolor: black body and two-tone spotted cap, black-beige.




Black rubber clip.
Cartridge/converter filling system.
Steel nib, available as EF, F, M, B, BB
Available in 3-4 days.

Our order form will calculate the shipping costs, which depend on weight, destination and carrier or mail.