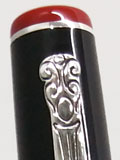 The pen inspired to Basilea, great cultural traditions' city


B

ASILEA

This writing instruments collection is dedicated to Basel, a city of great cultural tradition.
Since the Medieval Age it was allowed to hold official Trade Fair (1471), has a University (1459) an establishment of paper mills (1433) and therefore also many printers and humanists. Art is a living thing in Basel and the people have never been afraid of the avant-garde. In 1967 the city voters contributed to the purchase of two Picasso paintings for the local Museum of Fine Arts.
Marlen wanted this pen devoted to Basel (in italian, Basilea)
It's a numbered edition, made with black acrilic resin and red cellulose acetate details.
Sterling silver trims




Dimensioni:



Large fountain pen, open: mm. 122
Pétite fountain pen, open: mm. 111
Piston filling system
18 kt gold nib (F, M, B) or steel.
Basilea Pétite
Same shape and color, and same clip; cartridge filling system,
Steel nib, F, M, B.




Our order form will calculate the shipping costs, which depend on weight, destination and carrier or mail.