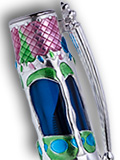 The Visconti Limited Edition that represents the Casa Batllo in Barcelona


C

ASA

B

ATLLO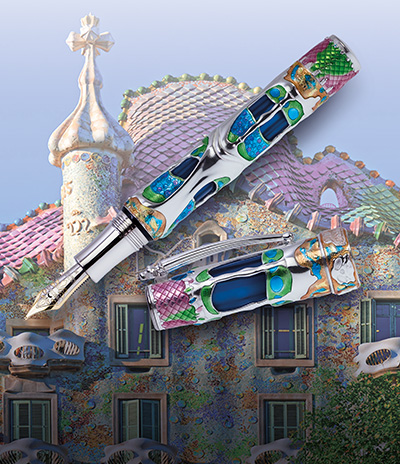 Limited Edition
188 total silver fountain pens+rollers
15 solid gold pieces.







CasaBatllo is a renowned building located in Barcelona at 43 of "Passeig de Gràcia", fully refit in 1907 by Gaudi, who redesigned the main facade, enlarging the court and raising two floors more.
There are few straight lines, and much of the facade is decorated with a colorful mosaic made of broken ceramic tiles (trencadís).
Gaudi designed unusual tracery with animal fantasy and bone shapes from the Art Nouveau and Gothic style: the main gallery was sculpted with sandstone, and counts five oval windows marked by giant bone-shaped columns, closed by large colored glasses.
The roof is arched and it was likened to the back of a dragon, effect also enhanced by the vitrified ceramic tiles.
Like Gaudi, also Visconti has in its DNA a compulsory need to express its creativity by working various materials, giving birth to amazing pieces of art under the vest of writing instruments.
Indeed, the pen created from Visconti artisans is the perfect interpretation of the philosophy which pervades Casa Batlló:



The body and the cap are curved on three layers, molded in different materials (acrylic, silver, enamel), representing the facade of Casa Batlló.
On top of the cap as well as on the blind cap the shape is respecting the particular design of the roof (built from small colorful tiles), while we can see the gallery and windows on cap and body: silver ligaments that enclose the enamels of the tiles of the facade and its colored glasses.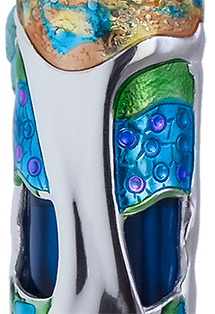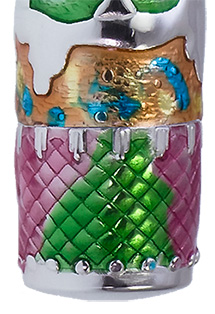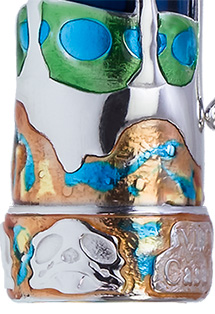 Visconti has used the most sophisticated techniques: from micro-fusion pieces reworked by hand piece by piece, to glossy enameling and iridescent coating to reproduce the tiles on the roof of the building.
The clip (rounded to the left of center and terminating at the top in a turret and cross) represents the lance of Saint George plunged into the back of the dragon.
The pen is provided with the famous double reservoir power filler system, patented by Visconti, as well as with the iconic Dreamtouch 23kt Palladium nib.
The Pen has been developed with the support of the owners of Casa Batlló in Barcelona, which has celebrated the 110 anniversary since the termination of works in 1906.
As ambassador of beauty, art and luxury, Visconti has been chosen again to represent the spirit of the famous artist.
The Dreamtouch nib is discontinued and sold out.
All the models that used to be sold with the Dreamtouch 23 Kt palladium nib, now are equipped with a 18Kt gold nib.