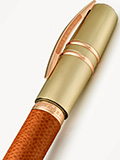 New reinterpretation of the Homo Sapiens line, covered in luxury Italian leather.


H

OMO

S

APIENS

D

UAL

T

OUCH
Homo Sapiens Dual Touch is a new version of the famous Homo Sapiens series, made by combining metal and palmellato Italian leather, but also craftsmanship and industry, with a contrast of materials and touch sensations.


3 colors: Black, Cognac Brown, Camouflage Green.
Also Homo Sapiens Dual Touch mounts the new Visconti 14kt gold nib, produced in-house; in rose gold finishing.
Cap, bottom and section are made of satin brass, coloured with a PVD treatment, depending of the pen's color.
Trims, instead, are always polished rose gold plated.
The black pen is combined with satin black cap, for a tone-on-tone effect.
The Camouflage Green pen comes with satin rose gold cap.
The Cognac Brown one is combined with yellow gold metal cap.



The collection includes also a capped roller:

Unlike the classic Homo Sapiens line, the Lava Color model features a magnetic lock system (instead of hook safe lock) that makes openinfg and closing the pen effortless.
Filling system: Power Filler
Nib: 14 kt gold, ruthenium plated, available as EF, F, M, B, Stub.
Dimensions:
Length, closed: mm. 144,2
Diameter: mm. 14 - 16
Weight: gr. 87