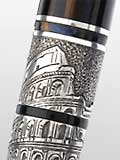 7 pens in silver, resin and celluloid for celebrating the world's new 7 wonders


S

EVEN

W

ONDERS

World's 7 Wonders
The origin of the idea of seven wonders of the world dates back to Herodotus (484-425 B.C.) and Callimachus (305-240 B.C.), who made a list which included the Great Pyramid of Giza, Hanging Gardens of Babylon, Statue of Zeus at Olympia, Temple of Artemis at Ephesus, Mausoleum of Maussollos at Halicarnassus, Colossus of Rhodes and Lighthouse of Alexandria.
Only the Great Pyramid of Giza is still standing. The other six were destroyed by earthquakes, fire, or other causes.


Limited Edition
77 fountain pens
68 roller
The "New Seven Wonders of the World" is a project organized by the private New7Wonders Foundation, for creating a "Global Memory", meaning 7 things that everyone worldwide can remember and share.
Marlen created a special pen each place of those, in black resin, silver and precious shaded celluloid, which depicts the Wonder in the large central band of its barrel.
The Colosseum (Rome, Italy)

The Great Wall (China)

Petra (Jordan)

Taj Mahal (Agra, India)

Machu Picchu (Peru)

Christ Redeemer (Rio de Janeiro, Brazil)

Chichen Itza (Mexico)

The large silver band of the cap is engraved with a design composing the 7 wonders all together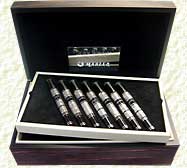 Fountain pens feature piston filling system, and 18 kt gold nib, available as EF, F, M, B..
Marlen realized also a precious Set of all the Seven Wonders.
Only 38 pieces of fountain pens, and 28 roller.
Our order form will calculate the shipping costs, which depend on weight, destination and carrier or mail.