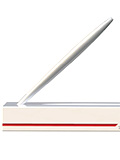 Remembering Ferrari Modulo in luxury packaging with commemorative stamp


C

AMBIANO

M

ODULO



Limited Edition
500 Ethergraf tip
500 ballpoint tip
A limited edition version of the Cambiano, in honour of the Ferrari Modulo, presented by Pininfarina in 1970 and of which a commemorative stamp has now been issued.

Based on the Ferrari 512S, it is recognised as one of the most famous dream cars of all time.
It is a car with an unusual silhouette, equipped with graphic solutions that are definitely futuristic; for example, it has no doors but the entire windscreen and the front part of the roof and windows is moved forward manually, to allow access. This is to allow access in cars of limited height (less than one meter). The interior is also futuristic: all the controls are on a sphere to the left of the driver.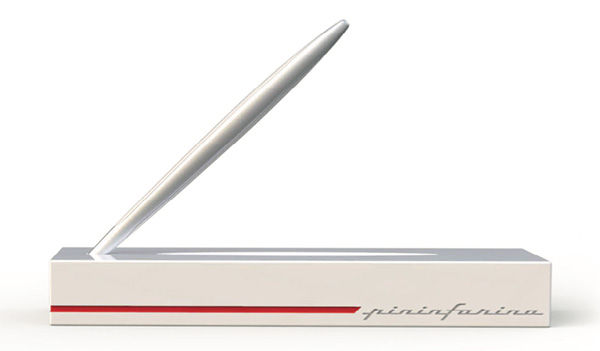 The white wooden base has a central groove to accommodate the pen as a pen rest, and a slanted hole to serve as a stylus. Inside, it holds the pen by closing it with a sliding shutter, like the other Cambiano models. On the sides, a red stripe and the Pininfarina logo recall the iconic car.
The ETHERGRAF® tip microscopically "scratches" the paper,
oxidising it and leaving a light but indelible mark.
Plain paper, i.e. untreated cellulose paper, (made of
vegetable fibres joined through a process called "felting"),
thanks to its porosity, it's a material that
perfectly reacts to the passage of the metal tip.
The Cambiano Leonardo pen is made of aluminium with white wooden inserts.
The tip is made of Etergraf®: it looks like a ballpen, but it is not. It is neither a pencil nor a fountain pen. It writes forever, without ink or refills, with a clean and light stroke.
On request, it is also available with a normal ballpen tip.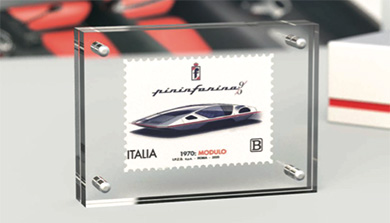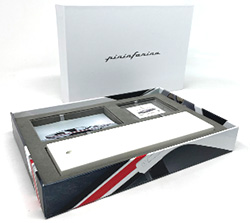 The collector's stamp, included in the Cambiano Modulo package, is placed in a transparent plexiglass plate, front and back, to preserve its integrity and to be displayed next to the pen.