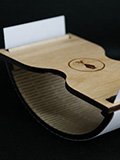 Fountain pens' ink blotter, foldable, for travelling


T

RAVEL INK BLOTTER
The best way to absorb ink when writing with fountain pens, is certainly a ink blotter.
Here is the travel ink blotter by Great Fountain (Italian company, despite its name): when closed, it's thick 6 mm. only, but when open it's a real ink blotter, practical and efficient. It's the solution for travelling with fountain pens!

Handcrafted in Italiy, from specially laser-cut wood to make it elastic and bendable; very quick and easy to assemble and practical to use.

The travel ink blotter is packed in a cardboard sleeve, and comes with one complimentary pre-cut strip of blotting paper.
More strips can be purchased separately.