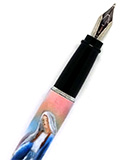 Aerograph hand-painted fountain pens, one by one.


O

UR

L

ADY OF

L

OURDES
Alessandro Salami started devoting himself to micro-drawing ten years ago approximatively, developing an artistic pathway that brought him to experience several techniques and materials, and a passion for painting over pens.
The "Our Lady of Lourdes" pen is aerograph painted all over cap and body of an Aurora Style fountain pen. Each pen is hand painted, and signed by the artist.



On the sky blue cap was painted a rosary, that ends with a golden cross over a golden halo that lights up the whole sky. A Swarovski crystal is set at the center of the cross.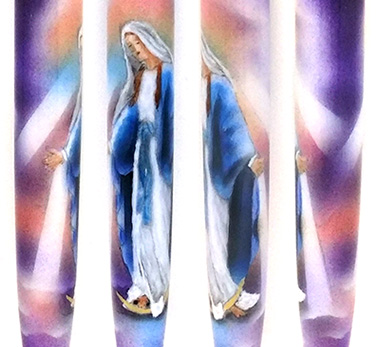 The artist, Alessandro Salami, reproduced the wellknown figure of Our Lady of Lourdes on the barrel, with her blue cloak and open arms to embrace mankind.
Only non-toxic, acrylic colours have been used, and the process is completely hand made, even the final polish protective coating.
Cartidge/converter filling system.
Steel nib, with M tip.
Chromed trims.
The pen comes in a precious brown leather box, with lock and key.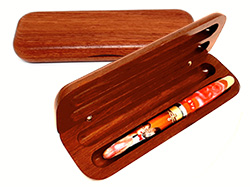 Description
Color
Version
Price €
Our Lady of Lourdes - hand painted fountain pen
Medium
Sold out
Our order form calculates the shipping costs, which depend on weight, destination and carrier or mail.