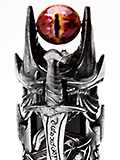 An extraordinary Montegrappa tribute to The Lord of the Rings Trilogy


L

ORD OF

R

INGS



Edizione Limitata
379 pezzi in argento
20 pezzi in oro
ONE RING TO RULE THEM ALL,
ONE RING TO FIND THEM,
ONE RING TO BRING THEM ALL
AND IN THE DARKNESS BIND THEM,
IN THE LAND OF MORDOR,
WHERE THE SHASOWS LIE.
Ash nazg durbatulûk, ash nazg gimbatul,
ash nazg thrakatulûk, agh burzum-ishi krimpatul.The greatest fantasy epic of all times, The Lord of Rings, is the subject of the latest extraordinary Montegrappa creation.
Rich in symbols and references to the work of J.R.R.Tolkien in the movie version, reproduced with the highest craftsmanship on body and cap, with the technique of lost-wax casting.
Will the craftsmen of Montegrappa be able to compete with the best Elven-smiths?
The pen is made of carbon-colored celluloid, wrapped in a rich in sterling silver decoration.
The barrel of the pen shows the vestments and weapons of the Fellowship of the Ring.
We can see the Aragorn's Sword, the axe of Gimli, the Gandalf's staff, the White Tree of Gondor with a green zircon set in the center.
Many other references (there are more than 20) are included in the decoration. The artisans of Montegrappa have worked closely with New Line Cinemathe representatives, to ensure a level of detail that will enchant even the most demanding fans.



The cap is even more richly decorated, and the element that stands out most of the others is the hand enamelled Eye of Sauron, hovering ominously, suspended in the Tower of Barad-Dur.
The clip recalls Sting, Frodo's Elvish sword.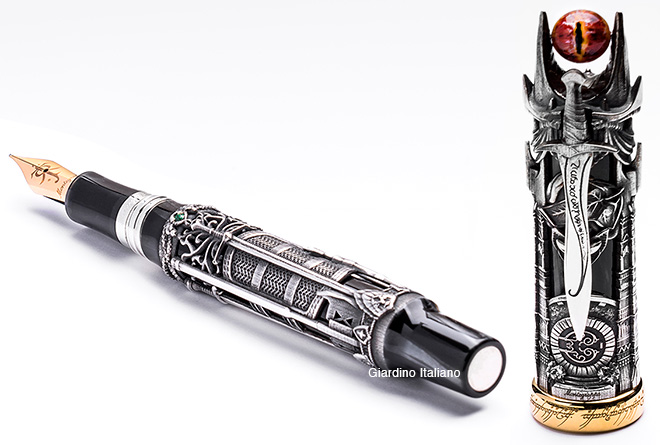 The gold plated Ring is engraving in the Tengwar language, and is a replica of the Unique Ring, which can be left on the pen, as a central band, but also removed and worn!
On the back of the cap, just above the ring, there is Gollum, who keeps his preciousss.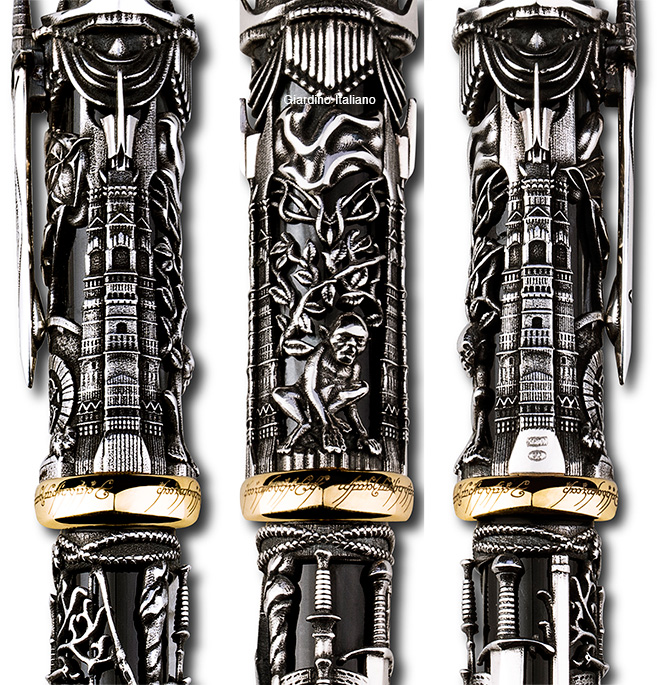 3 Rings for the Elven-kings under the sky,
7 for the Dwarf-lords in their halls of stone,
9 for Mortal Men doomed to die,
1 for the Dark Lord on his dark throne,
in the Land of Mordor where the Shadows lie. All the aficionados of the Middle-earth will find satisfaction in the meticulous attention to detail of this limited edition.
The sterling silver version, here described, is composed of 379 pieces, as the number of rings distributed to Elves, Dwarves and Men.
A more precious version, in 18 Kt gold, is made in only 20 pieces, like the total number of forged rings.
Piston filled
18 Kt gold nib, available as EF, F, M, B, BB, Stub 1.1
Dimensions:
Length: mm. 161
Diameter: mm. 21,5