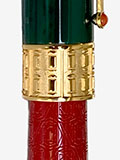 For the 500th anniversary of Perugino's death. New Delta hidden piston filling.


P

ERUGINO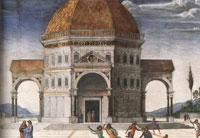 Limited Edition
188 fountain pens Pietro Vannucci, known as Perugino (1448-1523), fwas one of the greatest Renaissance exponents of Umbrian painting, a contemporary of Verrocchio and Leonardo da Vinci, and master of Raphael.
His works often include architectural elements that amplify the main scene through his skillful use of perspective.
In the photo, is a detail of the "Delivery of the Keys" fresco in the Sistine Chapel at the Vatican, elements of which were taken up in the decoration of Delta's Perugino fountain pen.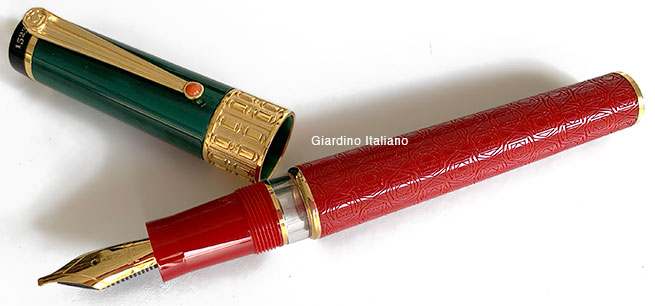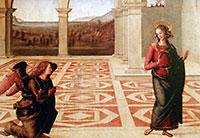 Deep red resin for the barrel, hand-turned from solid bar, delicately etched with a geometric pattern that echoes the perspective geometries of the floor painted by Perugino in another famous painting, The Annunciation (photo).
Deep green resin for the cap, lightly streaked
The central band, made of vermeil (24kt gold-plated sterling silver) is decorated in relief using the lost-wax casting technique. It represents the windows of the temple painted by Perugino, thus creating another distinctive geometric motif.

The clip is decorated at the top with the geometric motif of the barrel engraving; and at the end with a cabochon ball of real coral.
Two dates are engraved on the cap above the clip: 1523 and 2023, celebrating the 500th anniversary of Perugino's death.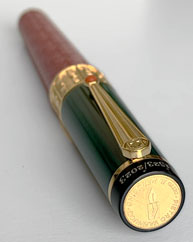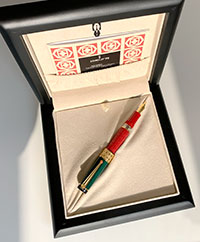 At the cap top, a vermeil disc reproduces the Delta mark and Perugino's name in relief.
The pen is packaged in a sumptuous black wooden case, decorated externally with the same decoration as the pen barrel (and the floor of the painting The Annunciation).
Hidden piston filling system, with end-of-stroke clutch, manufactured in-house by Delta.
The tail of the barrel operates the plunger with a simple rotation. Absolutely invisible when closed.
Nib: 14Kt gold, available as EF, F, M, B, Stub 1.1. Also flexible Flex EF and Flex F.
The pen will be ready at the end of October.
Book it as soon as possible because they're only 188 worldwide.