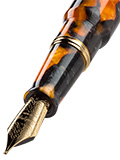 From the Vintage Class series, the Venetia resin collection features retrò line and exuberant colors


V

ENETIA
Montegrappa has created the 'Vintage Class' to revive the pens from the past by rethinking them for the writers of today, taking archive shapes from the 1920s, with a frugal use of metal components.
Montegrappa's Venetia pen is handmade in the same factory that also produced the original, with the same ends tapering to a bullet tip. The grip section also features a bold industrial design, with an innovative graduated step and flared profile.
The Venetia pens are made of exuberantly coloured resin, with gold-plated brass trims to recreate our famous ruffle clip and an elegant thin band.
Here are the three colors:
Havana Amber, a mixture of black, brown and amber, identified in the list below by the colour Amber


Plume Agate, a blend of grey, red and rust, identified by the colour Grey


Vintage Conifer, various shades of green, from undergrowth to acquamarine to English green, identified as Green.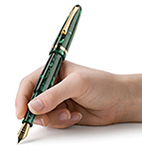 Montegrappa's new Ambigramma logo is diamond-engraved on the resin of the cap, immediately above the brass band.
On the barrel of the Venetia pen, instead, the old Montegrappa "touring" logo from 1928 is diamond-engraved; it is a historic logo, which appeared in many old editions, marking the first recorded use of the Montegrappa name on a writing instrument with its denomination of origin prized throughout Italy.
Modern upgrades include ballpoint and rollerball modes,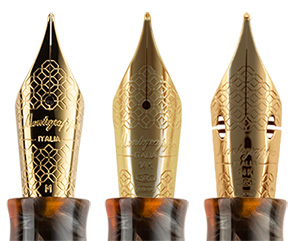 The Montegrappa Venetia pens may be ordered with several configurations of nib:
Steel nib, available as EF, F, M, B, Stub 1.1 and Stub 1.5
14Kt gold nib, as EF, F, M, B, Stub 1.1
14 Kt Gold Flex nib, as EF or F.
Filling system: cartridge/converter
The pen will be released the first week of April