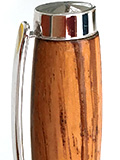 Hand-made pen, with Zebrawood


Z

EBRANO
The Zebrawood,
that grows in Western Africa,
is brown with dark stripes
that give it an unmistakable look.
It's used for handles, tools or floors.
Fountain pen or roller, hand crafted with Zebrawood, hand turned and refined.
The final result, therefore, is an always unique piece, because the wood veins are always different - and quite visible, in the zebrawood - and each pen features different shades and decoration.
Rhodium trims, cartridge/converter filled (included), bicolor steel nib. (only M)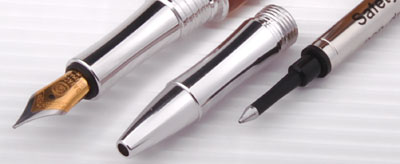 Length of the pen, closed: approx mm. 130 - it may change from pen to pen, due to the hand crafting.
Zebrawood pens are available as fountain pen only.
You can also buy an extra roller grip separately; easy to exhange, for experiencing all the writing devices. (Extra-special price for it too!)
Two pens in one!

Description
Color
Version
Price €
Zebrawood - wood fountain pen - Special Offer
Medium
190
€ 125.00
Our order form will calculate the shipping costs, which depend on weight, destination and carrier or mail.