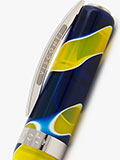 Woodstock numbered edition in limited quantity: each piece is different


W

OODSTOCK
A leap back in time, to as far back as 1969, when freedom, peace, love and sharing found their highest expression in the world-famous musical event in Woodstock, still replicated today for those who still want to feel like a 60s hippy.

Made of acrylic resin in brilliant colours and mixed with a kaleidoscope effect, as was the custom in those years, Visconti's Woodstock fountain pens are a numbered but not limited edition; their number, however, is naturally limited, because these resins are special compounds that cannot be reproduced.
Here are the colors still available:
Yellow-blue (Peace & Love)


Orange (Orange sunshine)


Ivory white (White dove)


Black-red (Dark lava lamp)


Red-blue (Lava lamp)


The central ring, palladium-plated, is engraved with the name Woodstock, with the O's replaced by the peace symbol.
Screw cap closure.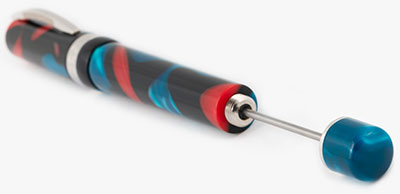 Nib: 14 Kt white gold, available as a EF, F, M, B, Stub.
Filling system: piston, Power Filler.
Dimensions:
Length of the pen capped: mm. 143
Diameter body: mm. 14,8
Weight: g. 41