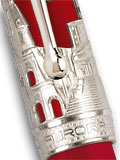 Special Edition, honouring Rom, in red resin and sterling silver


R

OMA
Following Venezia, Firenze and Torino, Aurora celebrates Roma, Italian capital city, with a new Special Edition made in red resin.



Pens are made in red resin; the cap is covered by a sterling silver overlay that represents the most important monuments of the city: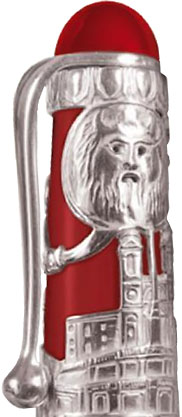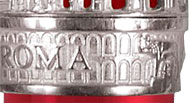 the Colosseum, the largest amphitheatre of the Roman empire still built (50/80.000 spectators); its arches are engraved also on the central ring, with the ROMA word and the Capitoline Wolf (the legend tells of a she-wolf who rescued and feeded the baby-twins Romolo and Remo, founders of Rome);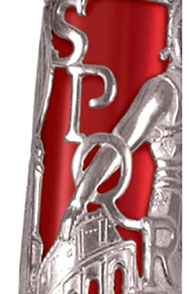 A Roman centurion with his sword, and the Rome's coat of arms with the famous acronym S.P.Q.R (in Latin means: the Senate and people of Rome);
the Mouth of Truth, that became famous in the "Roman Holidays" movie, with an unforgettable Audrey Hepburn;
the famous Spanish Steps with the Trinità dei Monti church.
The silver ring at the cap top, where the clip inserts, is decorated with a line of coat-of-arms, of the same model of the Roma city's emblem.
The fountain pen has been produced also with the cap overlay in rose vermeil (sterling silver with rose gold plating)

Piston filling system, with ink window.
18 Kt gold nib, EF, F, M, B.