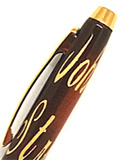 Devoted to Johann Strauss, famous Austrian composer, aerograph hand painted


J

OHANN

S

TRAUSS
Alessandro Salami started working on micro-drawing approximatively ten years ago, developing an artistic pathway that brought him to experience several techniques and materials, and a passion for painting over pens.
The Johann Strauss pen is aerograph painted all over cap and body of a Sheaffer fountain pen. Each pen is hand painted, and signed by the artist in an edge of the cap.

The pen is devoted to Johann Strauss (1825-1899), famous Austrian composer of dance music and operettas; which the annual Vienna New Year's Concert, broadcast worldwide, is devoted to.
The barrel has been painted with the musician's portrait, while the cap brings his name in golden calligraphic letters.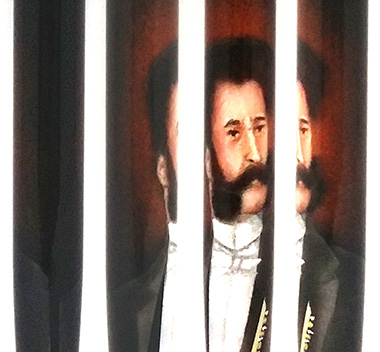 The painter Alessandro Salami has reproduced a portrait of the composer in his mature age, featuring moustache and sideburns, height of fashion at the end of XIX Century.
Only non-toxic, acrylic colours have been used, and the process is completely hand made, even the final polish protective coating.
Cartidge/converter filling system.
Steel nib, with M tip.
Chromed trims.
The pen comes in a precious brown leather box, with lock and key.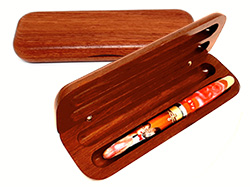 Description
Color
Version
Price €
Johan Strauss - hand painted fountain pen
Medium
Sold out
Our order form calculates the shipping costs, which depend on weight, destination and carrier or mail.