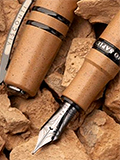 New reinterpretation of the Homo Sapiens line, in basaltic lava and resin


H

OMO

S

APIENS

L

AVA

C

OLOR
Homo Sapiens Lava Color is made by combining the basaltic lava of Mount Etna with colored resin, according to an exclusive Visconti secret formula.
3 color variations: Ash white, Terra di Siena red, Tuff brown.
Homo Sapiens Lava Color is also the first collection that mounts the new Visconti 14kt gold nib, produced in-house.



The collection includes also capped roller and ballpen:



Unlike the classic Homo Sapiens line, the Lava Color model features a magnetic lock system (instead of hook safe lock) that makes openinfg and closing the pen effortless.
Clips and finishes are black PVD treated.
2021: the new Blue color!


The material used, being lava-based, therefore hygroscopic, has undergone a protective anti-stain treatment to avoid ink stains. However, it is recommended to always clean the pen with blotting paper after filling, to ensure not to leave ink on the section.
Filling system: Power Filler
Nib: 14 kt gold, ruthenium plated, available as EF, F, M, B, Stub.