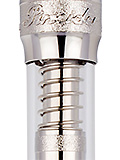 Mysterious and hidden filling system, a new Pineider patent.


M

YSTERY

F

ILLER



Limited Edition
888 fountain pens
each color
Simple things are the best, correct? Well, it doesn't seem so, in Pineider, where they are so much attracted by the complicated ones...
The latest Pineider complication is a "mysterious piston filling" system, with a back end hidden but well visible in this Demo pen, made in two versions: one fully transparent, and one with the black cap.
Their name is Mystery Filler.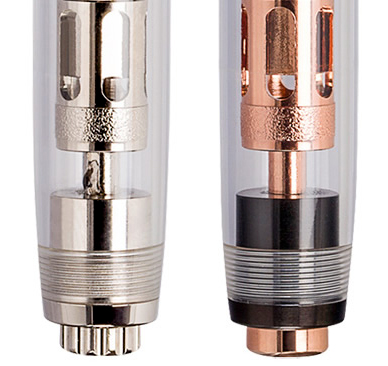 For proving people's attraction towards the complicated things, Pineider takes as an example the complications of mechanical watches. The so-called "misterious watches" have a dial without indexes or numbers, and you have to guess the time only by hands' position.

A filling system enriched by complications, like a complicated watch: this is what Pineider made.
The piston has a mechanism that allows to hide the blind cap inside the barrel, after having filled the pen.
Thus, a mysterious filling!
The system is made from 7 parts, of high precision, for activating the piston and hiding it in a way that cannot be accidentally turned on.
And it's so beautiful, with the activation spring and bearing ball going up and down, that they had to make a demo pen!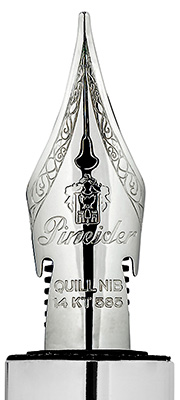 The Mystery Filler is a pen of the La Grande Bellezza series, featuring the same shape and size, and the same nib.
The 14 kt gold nib - white gold, or rose gold - was developed as iper-flexible, and has excellent memory.
In fact, the project was made to create a nib for daily writing, and not for calligraphy, whose performances and requirements are different.
The purpose of Pineider was the pleasure of writing for everybody, even for beginners; but always reminding that the fountain pen must be the extension of the hand and doesn't need any pressure to write.
Aldo the clip is the same, that recalls a quill, universal symbol of writing.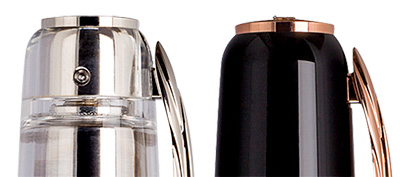 The pen features also the new patented magnetic locking system, that combines the traditional appeal of the screwing with the immediacy and safety of the magnetic closure.
The polarization of the magnets offers an exciting closure experience, watching the pen roll between your fingers until you hear the click of the closed pen.