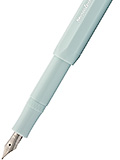 Small in the pocket, large in the hand.
New fresh colors for the Sport Skyline series.


S

PORT

S

KYLINE

The famous Kaweco Sport (Classic) celebrated 100 years: and even keeping its unmistakable still fashionable style, it has been produced in several models.
The old motto "small in your pocket, large in your hand" is definitely true: when closed, it's a small pocket-pen, but it becomes a normal pen when opened, with the cap posted back.
The clip is removable: it's not attached to the cap, but it slides all over its length. It may be put in the preferred position, and it may even be removed at all.
The Skyline version, made with hight quality resin, shows fresh and modern colours, with rhodium trims.
Here they are: TENDER MINT:


MACCHIATO (beige)


The removable clip
- silver color -
can be purchased
separately


FOX (terracotta orange)


the classic WHITE :



Length of the
capped fountain pen:
mm. 105;
open, with cap posted
on back: mm. 135 and BLACK:


Steel nib available as EF, F, M, B and BB (1.3 mm)
Kaweco Sport Skyline is not only fountain pen: a large lead pencil (mm. 3,2) is here with the same shape and colors - and the same optional clip system.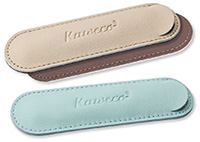 Some nice eco-leather pouches are available as well, separately purchasable. They're coordinated with Mint and Macchiato colors of the pens.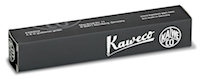 All Kaweco Sport Skyline come in a practical carboard box.

FOR A FEW DAYS MORE:
A complimentary box of cartridges comes with every pen purchased: choose your favourite color!