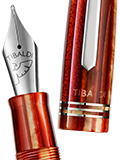 The new Bononia is classic ogival shaped, resin and palladium


B

ONONIA
Bononia is the Latin name of the city of Bologna, as well as the name of a pen that Tibaldi had produced in the late '90s, in a few pieces, inspired by the models of the '30s.
Now Tibaldi takes back the Bononia model, revisiting it with more essential materials and decorations.
Ogival shaped pen, medium size, all made in Italy.
Striped resin body and cap, with extraordinary color effects, shaded and combined in light and dark stripes with mother-of-pearl shine, in the red (Seashell Mist) or green (Martini olive) variant. Palladium finishes.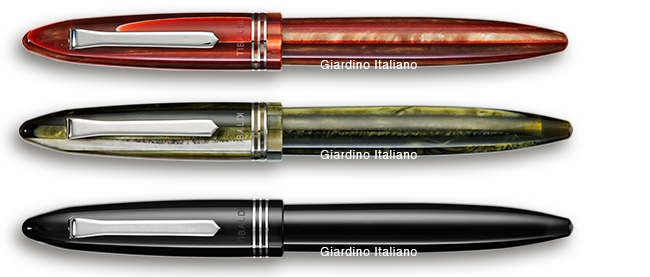 Bobonia is also available in plain black.
New 2021 colors:
Blue (Bora-Bora) and Grey (Pearl Mist):





Filling system: cartridge/converter (included).
Nib: steel nib, available as EF, F, M, B, BB.
Feeder: ebonite.
For all colors, the roller and ballpoint model is also available.


Dimensions:
Length: mm. 145
Diameter: mm. 13
Description
Color
Version
Price €
Our order form will calculate the shipping costs, which depend on weight, destination and carrier or mail.