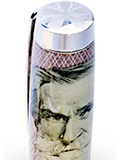 A real banknote of old 1.000 italian lira applied on each pen


M

ILLE
The pen Mille is made by Storia using a real thousand lira banknote.
The 1,000 lira is considered the symbol of Italian paper money because, unlike the younger 10,000, 50,000 and 100,000 lira, it has been issued since the birth of the Kingdom of Italy in 1872.
In 1939, a popular song "Mille lire al mese" (=1000 lira per month) celebrated the great value of this bill.
By the time the lira was replaced by the euro in 2002, the thousand lira was a very small amount, useful for everyday expenses, following the progressive devaluation of the Italian currency since the 1970s.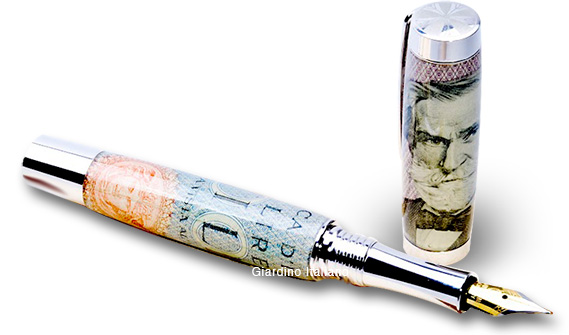 A real 1,000 lire bill was applied to the body and cap of each pen, varnished several times until it was completely protected and shiny.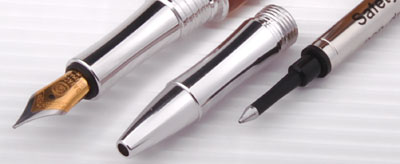 Steel bicolor nib, iridium point.
Cartidge/converter filling system, rhodium trims. Converter included.
You can buy an extra roller grip separately. 
Exhanging is very easy: just unscrew the fountain pen's grip and substitute with the roller's one, for experiencing all the writing styles.
Two pens in one!
The packaging is a raw wood box, inspired by a typical crate of apples of the region where the company is located, at the extreme north of Italy.
Description
Color
Version
Price €
Mille - fountain pen - Special Offer
Medium
Sold out
Mille - roller
roller
Sold out
Our order form will calculate the shipping costs, which depend on weight, destination and carrier or mail.