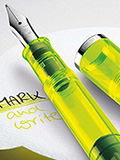 The fountain pen for writing and hightlighting, with fluo ink


205 D

UO

H

IGHLIGHTER
The 205 DUO is a fountain pen made in transparent shiny colored resin, of the Classic series, regular sized (length mm. 125 closed, diameter mm. 14), that could be inked with a special highlighter ink, green or yellow.
Special Edition, available for a limited time. The green pen is sold out, but now there is the yellow one!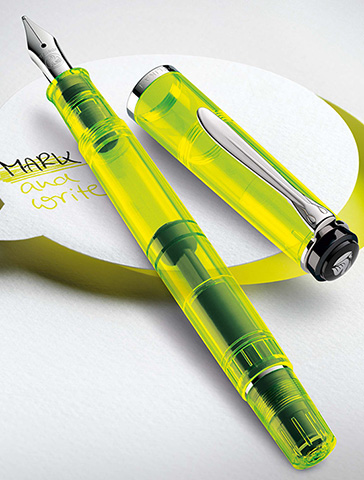 The name DUO is due to the double function of this writing instrument: it's actually a fountain pen, but, at the same time, it's also an highlighter.
After the amazing success of the previous green version, Pelikan launches the shiny yellow model for a limited time to complement the range.
Its steel nib, iridium point, is available only in extrabroad (BB) to easily highlight and take notes.
Piston filling system.
Its attractive gift box includes one 30 ml. bottle of special highlighter ink in shiny yellow.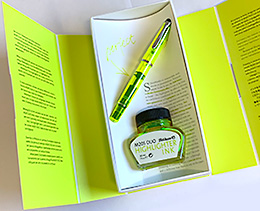 WARNING: the highlighter inks should only be used in combination with the special Pelikan 205 Duo Highlighter fountain pens, not with other normal pens.
The ink bottle, however, is also available separately. Inside the bottle, it doesn't really look shiny, but when you see it on paper, you'll be surpised!