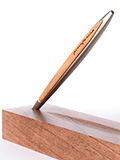 Forever pens write without any ink or refills - inspired by Pininfarina Cambiano concept car


C

AMBIANO

P

ININFARINA
The ETHERGRAF® tip
microscopically "scratches" paper
oxidizing it and leaving a light but indelible stretch.
Due to its porosity, the common paper - that is
the cellulose not trated paper (formed by
vegetable fibers bonded through a process
that is called "felting")-
is in fact a material which perfectly reacts
to the passage of the metal tip.
Taking inspiration from Cambiano concept-car, the Pininfarina design team, headed by Paolo Trevisan, designed the elegant and essential lines for this pencil. Thanks to innovative and traditional material combination, like aluminium and wood, the object has a unique spirit.
The Cambiano pen is one of the Forever collection, with Ethergraf® tip, that writes forever with no needs of ink, refill or graphite leads.
The Cambiano pen features external galvanic treatment in 2 finishings: aluminum or polished black.
Alluminium


Polished black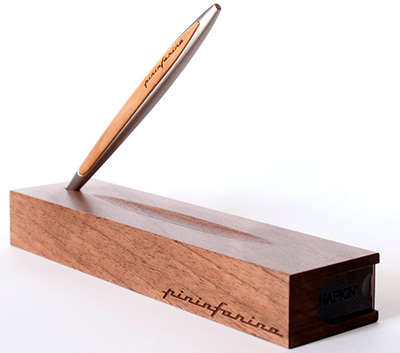 The wood insert of the pen is solid walnut wood, as well as the origianl box that becomes an useful pen holder or stiloforo when put over the desk.
Dimensions:
Length 16,5 cm
Weight 36 gr



Description
Color
Version
Price €
Cambiano - aluminium and wood pen
€ 99.50
Our order form will calculate the shipping costs, which depend on weight, destination and carrier or mail.