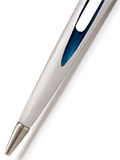 Forever series, no ink no refills, made of aerospace aluminium


A

ERO
From the meeting between design and technology, tradition and innovation PININFARINA AERO took shape.
The futuristic body made of exclusive aerospace materials and forged according to the principle of torsion, molds matter evoking the infinity symbol.
In contrast to it, a rough base in raw concrete.
Different materials, opposites that complement and attract each other to give life to a new chapter in the story of Forever: a tool that overcomes the barrier of time exploring new expressive galaxies.


Body made with aerospace aluminium, bright and satin.
Inside, the empty ring is anodized in a vivid electric blue.
Its stunning twisting effect is enhanced by the two different colors and finishings.



The Pininfarina Aero pen comes with its penholder - stiloforo made with concrete, that can stay horizontal or vertical.
In both cases the pen stays balanced, magically suspended in space.


The ETHERGRAF® tip microscopically "scratches" paper
oxidizing it and leaving a light but indelible stretch.
Due to its porosity, the common paper - that is
the cellulose not trated paper (formed by
vegetable fibers bonded through a process
that is called "felting")-
is in fact a material which perfectly reacts to the
passage of the metal tip.
All pens of Forever line, with Ethergraf® tip, will write forever with no needs of ink or refills or graphite leads.
They don't dirty or stain if they accidentally touch other materials. They write only on paper.
Description
Color
Version
Price €
Our order form will calculate the shipping costs, which depend on weight, destination and carrier or mail.