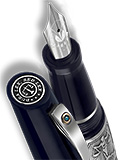 Marlen pens for the legal profession, rich in classical symbolism


L

EX
The Marlen pen dedicated to the legal profession. Lawyers, judges, notaries, attorneys, new graduates, associates, will appreciate the classic references and symbols that decorate this series of pens.
Body and cap are turned from solid bars of Italian resin, in two colors: dark blue or burgundy.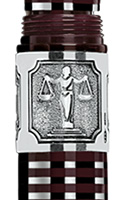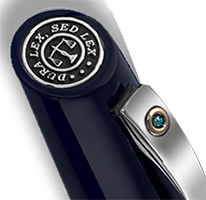 The collection comes in two variants, the same but for the clip: the clip of the model with the gemstone is set with a precious gem (red ruby or blue sapphire, depending on the color of the pen) with a gold seal.
The balance, symbol of justice, is engraved on the large sterling silver band of the barrel.
At the cap top, a sterling silver coin is engraved with the scales of justice and the ancient Latin legal motto "dura lex sed lex".


The other model of the collection features a a small scales of justice engraved on the clip, without gemstones. Everything else is the same.


The fountain pen is cartridge/converter filled and has a steel nib mounted.
Also available as capped rollerball, in both models and colors.


Dimensions:
length of the pen, closed: mm. 141
length of the fountain pen with cap posted back: mm. 170
Diameter: mm. 16