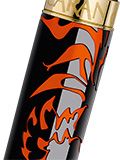 2017 is the year of Rooster, in Chinese Zodiac. Black and orange lacquer for this flamboyant rooster.


Y

EAR OF THE

R

OOSTER



Limited Edition
888 fountain pens
888 rollerballs
According to Legend, the Emperor of Jade summoned all the animals in creation to a mysterious meeting, promising them a special reward; but only 12 animals came.
The Emperor then gave their name to all years from then on, in the order of their arrival.
2017 is the year of Rooster, that symbolizes the energy of the sun and intelligence, in Chinese zodiac. It stands out for bravery, success, charism and family protection.

To celebrate this year and confirm its admiration for Chinese culture, Caran d'Ache, Maison de Haute Ecriture, has created a new, prestigious writing instrument in only 888 pieces, because 8 is considered a lucky number in China, ensuring prosperity and balance in life.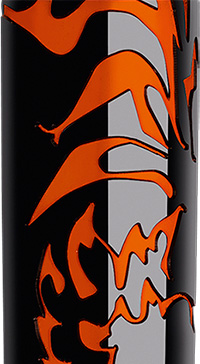 Cap and body are covered in bright orange genuine chinese lacquer, covered by hand-polished black lacquer, layer-by-layer patiently applied, that enhances the magnificence of the rooster's rich plumage with a typical etched design.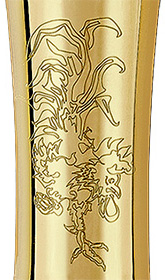 The whole pen is a flamboyant twirl of feathers and claws, all around the pen.
Showing its amazing strength and agility, the Rooster masters this Limited Edition,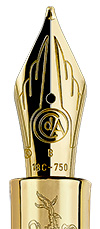 grasping with claws and fiercy raising its tail's feathers.
A Rooster appears also on the golden grip, engraved by laser to enrich the pen with glimmers of light.
All trims are gold plated.

18 Kt gold nib, engraved with Caran d'Ache logo and classic decoration, only available in M.
The Chinese lacquer is a living and fascinating material, used since the Shan Dinasty inl XIV Century BC. Its technique calls for a high degree of skills and patience, a tipically Oriental virtue. Entirely executed by hand, the meticulous successive applications of fine layers of lacquer require infinite patience.
Each pen is authenticated
with the calligraphic symbol
of the Rooster,
and the Chinese stamp
of the Maison Caran d'Ache,
applied in red
as a token of good luck.



The Year of Rooster is a piece of the Artist Collection series: limited editions, created in close collaboration with artists and craftsmen in several fields, from jewelry to sculpture.
They're magnificent pieces, rich for precious materials, that perfectly illustrate the expertise of a Maison di Haute Ecriture.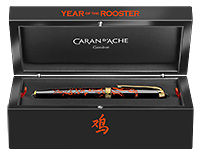 The pen comes in a luxury black lacquered box, with authencity certificate for the Chinese lacquer and Caran d'Ache's international lifetime warranty.
The pen is made on request: therefore it's available in approx 15 days from order.