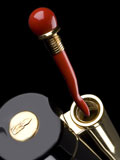 The Delta We' pen with its red pepper-amuled screwing inside the clip


W

E'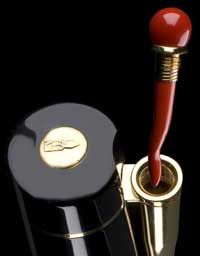 "It's not true but I trust" was the famous reply of Benedetto Croce - wellknown Italian philosopher - about superstition.
Supersition comes from the hope to protect oneself from adversity, to ward off misfortune or to propitiate good luck. Traces of it can be found in all ages and all social strata; it infects both educated and less educated people, finding its way into every social stratum.
And Eduardo De Filippo, famous Neapolitan theather author/actor/director, used to say 
"Being superstitious is an indication of ignorance, but not being so brings bad luck" - and here is all scaramancy's philosophy.
Inside the clip of every version of this hand-made collection, Delta blesses their customers with a genuine coral "peperoncino", (red pepper). Which is a traditional Neapolitan amulet of good fortune.
The lucky pepper charm screws and disappears inside the clip, always available whenever and wherever good fortune is needed.
New production 2023 - extraordinarily, at a lower price than the last list (of 2016).
We' 17


The WE' 17 pen features black cap and body, palladium trims and a red ball on the clip.
We' Smorfia


The WE' Smorfia pen features red body and black cap, golden trims and a red ball on the clip.
For both versions, the ballpen is available as well: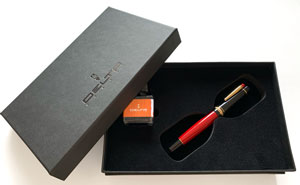 Delta We' fountain pen is cartridge/converter filled;
Small nib (size 5) either as 14Kt gold and steel; available as EF, F, M, B, Stub 1.5.
The golden nibbed fountain pen comes in a beautiful black box, with a free bottle of ink.