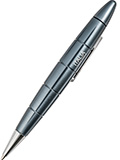 Ballpen and pencil:
two in one, just exchanging refills

N

OBILE

I

TALIA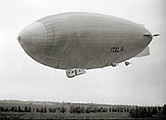 Umberto Nobile (1885 – 1978) was one of the key figures in the history of flight. Genius engineer, able aviator, and untiring explore, he designed airships all over the world, but he is mostly known for having flown across the North Pole twice: one in 1926 on request of Norway, and the entirely Italian expedition aboard the airship ITALIA in 1928.
This last expedition ended dramatically when the ITALIA crashed into the ice and the survivors were rescued after forty-eight days spent in the legendary "Red Tent."
Nobile Italia is born from the talent of Italian craftsmen; it's an original product with a modern design whose inspiration comes from a glorious airship of the past.
The pen Nobile Italia is available in 4 colors.
Aviator blue, chromed, brushed and black.


Forma affusolata con incisioni che scandiscono la forma, e clip lineare con il dettaglio della vite.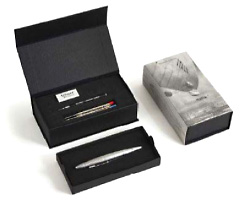 The pen Nobile Italia is both a ballpen and a pencil, interchangeble just exchanging the refill inside.
The package includes 3 spare colored refill for ballpen, a 0.7 mm. lead pencil refill, and an eraser.
Description
Color
Version
Price €
Nobile Italia - ballpen and pencil
€ 124.00
Our order form calculates the shipping costs, which depend on weight, destination and carrier or mail.