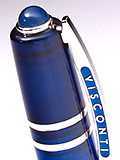 A new Visconti traslucent Homo Sapiens in 3 colors of precious stones


H

OMO

S

APIENS

D

EMO

S

TONES
Visconti presents a new Homo Sapiens, inspired by the light and colors of precious stones: Emerald, Ruby and Sapphire.
New colors 2022
Amethyst violet and orange garnet, with cabochon quartz gem on the cap top:



The harmonious proportions of Homo Sapiens combine with the seductive transparencies of translucent acrylic resin, rich in intense colors and light reflections.
The barrels and caps are polished by hand, in the Visconti laboratory in Florence, with felt tools, to obtain an excellent result, thanks to the mastery of the most experienced craftsmen.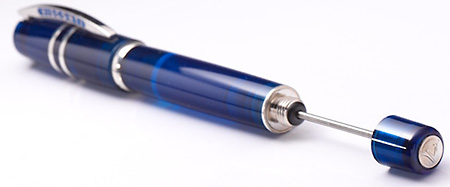 The translucency of the colors reveals the heart of the pen: the Double Reservoir Power Filler system, patented by Visconti in 1998.
The double reservoir ensures a great writing capacity. To be sure to fully load the pen, many people find that the Travel Inkwell is very useful.
Nib: 14 kt white gold
The bridge clip is engraved with Visconti logo on an enameled background in a color coordinated with the pen.
Hook safe lock closure system.
The Homo Sapiens Demo Stones collection includes also the capped roller:



At the top of the cap you see colored semiprecious gems (green agate, blue agate, and red carnelian) cabochon cut; but you can personalize your pen with the MyPenSystem initials on the bottom of the barrel, where is applied the magnetic metal disk with the V of Visconti (the same that usually was at the cap top).
Dimensions:
Length of the closed pen: mm. 148
Length of the pen open, uncapped: mm. 131
Diameter: mm. 16,3
Weight of the empty pen: gr. 40.