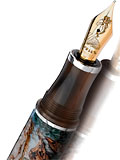 Hand painted by the Italian painter Salimbeni


B

OTTICELLI

Sandro Botticelli
Sandro Botticelli (real name Alessandro Filipepi) was born in Florence in 1445, where he died in 1510. He was an Italian painter of the Florentine school during the Early Renaissance.
He became an apprentice of Filippo Lippi, and developed a new style, featuring a timeless malinconic beauty of characters and major attention to human figures than landscapes. His masterworks Primavera and The Birth of Venus were painted at Medici's court.
The Botticelli fountain pen
Produced in only 28 pieces worldwide, in Italian resin bands alternated with sterling silver rings; cap and body in brown-nut-grey tones.



Limited Edition
28 fountain pens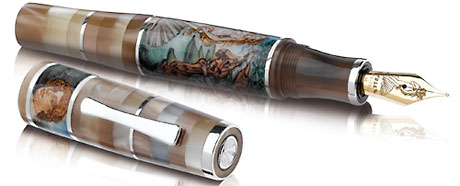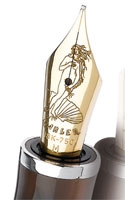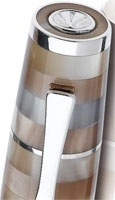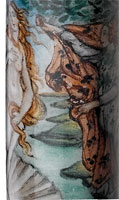 At the cap top, a silver disc reproduces Marlen logo.

The central part of the body has been hand painted by the painter Salimbeni, and reproduces the miniature of the Botticelli's Birth of Venus.
Each pen has been painted by hand using a special technique.

18 Kt gold nib, engraved with the central figure of the painting: Venus in her shell.
Piston filling system.
The art of miniature enamelling
The technique of fire enamel over precious metal, very famous since Renaissance, is nowadays applied by very few skilled artisans.
The miniature is hand-painted over a first coating of white enamel, conveniently melted at hight temperature and then crystallized.
Colors come from colored crystals, grinded and reduced to very fine powder, purified and diluted with special oils.
The color brushstroke cannot be put in a large quantity, because it would irreparably spread at melting, during repeated bakings at 750°C. This is the reason why the painting must be painted a tittle piece at time, baking it several times.
A good miniature need 20 to 50 cookings, and it's finished when the painter doesn't think to add anything else.
Over the painting, two more layers of transparent enamel must be applied, and afterwards smoothed and polished with diamond file and fine pumice.