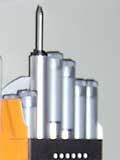 Nibs, refills, cartridges and accessories by Delta


S

PARE

P

ARTS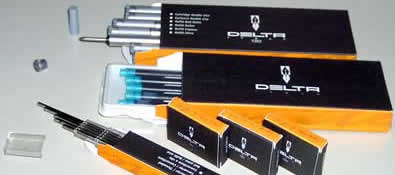 Nibs, refills, cartridges and accessories.
If you're hesitant of your choice ring or e-mail us.
ROLLER
BALLPOINT
SMALL PENS:
Dolcevita Mini, Soirée, Capri Marina Piccola, etc.
Refill capless small
Refill for small ballpens
DOLCEVITA STOUT
Refill capless small
MegaLine pressurized
PASSION and SOLARIS
refill roller 5888
capless D8900/SOFT
LIMITED EDITIONS
capless D8900/SOFT
OTHER PENS
capless D8900/SOFT
Description
Color
Version
Price €
Refill for roller 5888 - 12 pcs - Special Ofefr
blue
Sold out
Refill for small ballpoint - 10 pcs - Special Offer
black
Sold out
Standard ink cartridges - 4 pcs box - Special Offer
1
€ 0.70
Double Size ink cartridges - 5 pcs box - Special Offer
2
€ 1.30
MarKiaro - spare crocodile strap - Special Offer
black
68
€ 24.00
Our order form will calculate the shipping costs, which depend on weight, destination and carrier or mail.