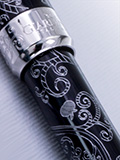 The pen for the 20th Anniversary of e-commerce, for Giardino Italiano


G

IARDINO DELL'

E

DEN



Limited Edition
100 black pieces
100 blue pieces
1996 - 2016. Giardino Italiano has been selling pens online for 20 years.

For celebrating this important anniversary (we have been the first in the world to sell fountain pens online in 1996), Visconti produced this small masterpiece, exclusively for us: the Giardino dell'Eden pen.
100 pieces (in total among fountain pens and rollerballs) in black resin, slightly enlighted by pearly grey-cloud shades, and 100 pieces in a special petrol blue (sold out), bright and almost sparkling.
Cap and barrel of the pens are decorated with the precious Scrimshaw technique.


sold out


Scrimshaw is an engraving technique
consisting of cutting resin with a very sharp tool
thus creating a decorative pattern.
The images are then filled in with printing ink,
in this case a silver colour,
and left to dry dry for at least three days.
At the end of the process,
the surface is finely smoothed
until the design appears.
In ancient times, scrimshaw was used to decorate
ivory handles, such as on walking sticks,
collection knife handles and rifle stocks.

At this moment, Visconti is the only company in the world
to use this technique for its production.
The silver pattern that decorates the pen is inspired to Klimt's style in his Tree of life.
It represents a tree - an apple tree, of course - that winds around the pen's barrel and reaches out to the cap, with a motif of tangled branches that grow with curls, spirals, leavees and apples; like a precious embroidery that lighten the pen's sobriety.
The palladiun central band is engraved with the Giardino Italiano's logo, the anniversary's dates (1996-2016) and the endings of the curls that compose the main decoration.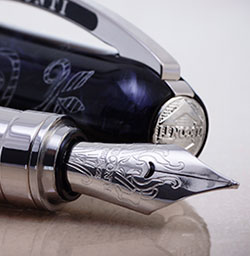 Each pen is individually numbered.
The fountain pen's nib is the classic small Visconti steel nib, available in the classic grades (Fine, Medium, and Broad) but also in the firm Stub nib.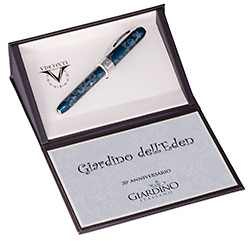 Cartridge/converter filling system. Converter included.
Palladium trims.
The cap is closed by magnets.
Classic Visconti clip, bridge shaped, with Visconti logo over black enamel.

The box is personalized by the Giardino's logo and the pen's name.
The entire collection can be personalized using the well-known Visconti patent - My Pen System - with the instant application of the initials or the semi-precious stone preferred by the fortunate future owner.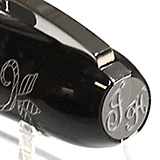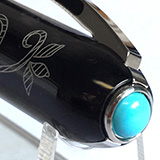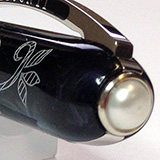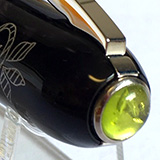 From left to right: black onix, black hematite, blue lapis, violet amethyst, red cornelian, amber, brown tiger's eye, yellow agate, green peridot, deep green malachite, cyan turquoise, white pearl.
Stephen "SBRE" Brown reviewed the Visconti Giardino dell'Eden fountain pen with his usual precision and accurancy. Here is his video!
It's in English, but you can set subtitles in your language (Thank you Google!)
The Giardino dell'Eden in Teal color is completely sold out.
Still available in cloudy black, both fountain pen and rollerball.