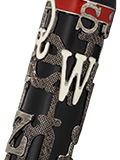 Visconti Edizione Limitata per ricordare le vecchie macchine da scrivere


Q

WERTY



Edizione Limitata
388 stilografiche
388 roller
Visconti made this pen to celebrate the alphanumeric keyboard for typerwriter patented in 1864 by Christopher Sholes. To pay homage to a timeless system, born with typewriters, but still present today in everyday life.
And if you're wondering what "qwerty" means... well, look down at your computer keyboard and you'll figure it out!

Cap and body made of black acrylic resin, covered by an aged sterling silver filigree, engraved with a special 3-level technique to obtain the three-dimensional effect, and enameled.
All internal parts of the pen are turned.



The band, made of silver like all the other metal parts, was engraved in Visconti's laboratories, and then enamelled.
Screwing closure of the cap.


The clip features a pressure mechanism and is reminiscent of the strikers of old typewriters. In fact, at the lower end, there is the letter V (like Visconti) both upper and lower case; while at the top the V in the circle recalls the old ivory keys.
The Visconti Qwerty pen box is inspired by early Remington typewriters: the upper part contains two glass ink bottles, one red and one black. The lower part allows a glimpse of the pen through the glass window, and is decorated with aged silver and ivory enameled keys that make up the word Qwerty.
The aged silver plaque with the Visconti logo is reminiscent of typewriter strikers.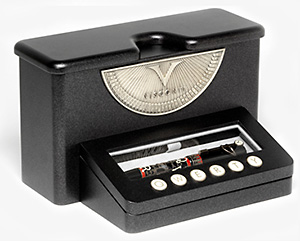 Filling system: Power Filler Double Reservoir.
18Kt gold nib, ruthenium color, EF, F, M, B, Stub.
Available on request