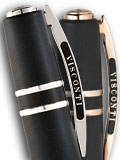 Etna lava for celebrating the wroiting's birth.

Bronze and Steel versions

H
OMO
S
APIENS
More than five thousand years ago with the invention of writing the pre-history of the human kind ceases and Homo Sapiens marks the eve of human history.
The Homo Sapiens collection
Visconti conceived the Homo Sapiens writing instruments line for real writers, for those to whom the fountain pen continues to represent a travelling mate, a daily friend to share with the same civilization that writing contributed to create.




The material in this pen is as antique as the world: lava from the Etna volcano.
Visconti has successfully produced a material containing over 50% of pure basaltic lava, catalysed together with resin in a formula-patented thus obviously kept secret; whose extraordinary characteristics practically transform it into a material perfectly fit to writing instruments.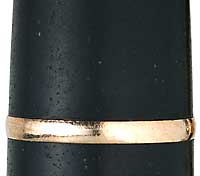 Virtually unbreakable

: It has a high degree of resilience, 10 times more than the same pen in resin.

Flameproof

- Visconti lava has a resistance to heat of over 100°C; much more than the temperature your car can reach in a parking during an Italian summer (70°C).

Slightly hygroscopic

, allowing to absorb hand sweat during use.

Dense at touch

, allowing the best finger-relaxing grip.
Inspiration was drawn from the Bronze Age - being it almost contemporary to the invention of writing - for all metallic parts.
The clip, the rings and the metal accessories -with the exception of the piston only- are all in bronze: natural bronze like the antique formula, that does not require plating or protection treatments which would alter its original almost pink colour, and which can be easily polished with special products.
The charging high vacuum power filler is made of titanium, the only material resistant to ink aggression.
Palladium nib: 23Kt 950 Dreamtouch
With Homo Sapiens Visconti introduces the first ever made 23 ct 950 palladium Dreamtouch nib.
Palladium has interesting physical features that allow the production of fountain pen nibs; its manufacturing is possible nowadays thanks to new metal-fusion technologies and to the welding of iridium tips.
Palladium actually melts at much higher temperatures than gold: 1552°C against 1063°C. It is therefore obvious that this metal has better mechanical features, being more resistant than gold and that any manufacturing process involving palladium becomes a lot more challenging.
Dreamtouch is the term
Visconti coined to define a nib
that requires no pressure
whatsoever in order to write,
it traces in a gentle way
thoughts and words
for a dream handwriting..
Flexibility and Memory:
are the best for any type of writing, enhanced of 30% compared to the same nib in 18 kt gold.
Resistance to ink corrosion: has been improved up to 100% thanks to the pureness of the material to an extent to which no protection treatment of the plating is needed.
We can think of Homo Sapiens as a fountain pen that can bring to mind a time-frame: starting from lava as generating materia, passing through bronze - recalling the beginning of the act of writing, and ending with palladium – the metal of the future.
Homo Sapiens is piston filled,
23 Kt palladium nib: EEF, EF, M, B, BB, Stub, OF, OM, OB (on request)



Also Homo Sapiens can be personalized with initials on the cap top, with magnetic initials of Visconti's My Pen System.
Personalization is reversible because we'll send you also the original Visconti top disc for future substitution.


For a certain period, the Homo Sapiens was realized with steel trims, instead of bronze, in Oversize and Medium size. All versions discontinued.
The Dreamtouch nib is discontinued and sold out.
All the models that used to be sold with the Dreamtouch 23 Kt palladium nib, now are equipped with a 18Kt gold nib.