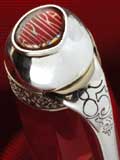 For celebrating Aurora's 85th Anniversary from foundation.


85°

ANNIVERSARIO



Limited Edition
1919-49 pieces
For celebrating its 85th Anniversary from foundation, Aurora produces a real jewel, Limited Edition of 49 pieces only.
Each pen is realized from a single block of mother of pearl, with solid rose gold finishing. Grip, nib, clip, bottom and rings are made in 18 Kt rose gold.

Limited Edition as well - but 1919 pieces made, like the foundation's year - the same pen is also realized in marbled red resin and sterling silver finishing.


Bottom and rings are decorated with floral engravings, such as the first models of Aurora's tradition; because the past is considered a heritage, and learning experience for the future. The cap ring is richly engraved with Aurora name and, on the opposite side, with the pen's serial number.
In the cap, the new oval-drop head features a mosaic with old Aurora's logo in grey mother of pearl on a red coral paste background. A rock crystal lensemphasizes the beauty of this head.
On the clip, the 85 logo is engraved in old style.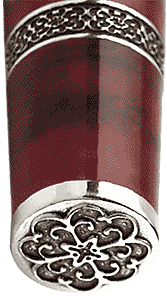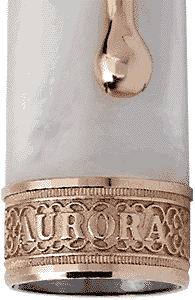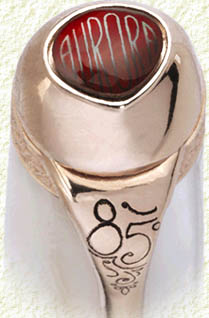 A red laquered box, lined with grey velvet, stresses the exquisite beauty of this collection.
A matching roller (999 pieces) in red marbled resin and silver trim completes the collection.
Piston filling system, 18 Kt gold nib F, M, B, and alsoEF, OM, OB