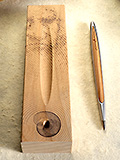 Leonardo's designs decorate the wood box of this Cambiano model.


C

AMBIANO

L

EONARDO
This version of Cambiano celebrates Leonardo's genius in his scientific approach to drawing.
The walnut wood box, that works also as stiloforo and pen holder, is decorated with the famous Leonardo's self-portrait and with the logarithmic spiral based on the golden ratio of the "divina proportione"
This mathematical figure is recurrent in nature, from shells to galaxies, and is a universal symbol of perfection.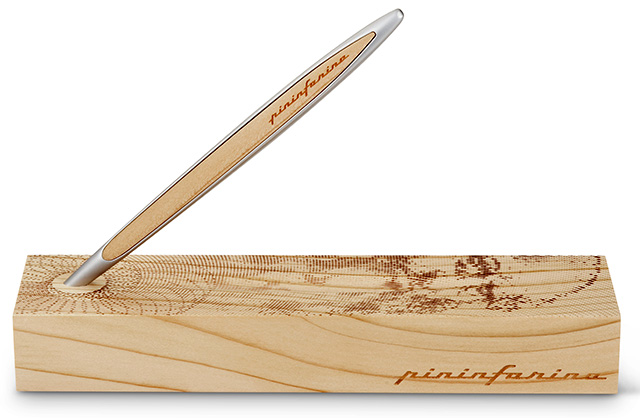 The Leonardo's portait is well visible only from certain angles and is confused if seen from others.
The wood basis features a central groove to hold the pen as a penholder, and a sloped hole to keep the pen as a stiloforo. Inside, it keep the pen and it's closed by a sliding door.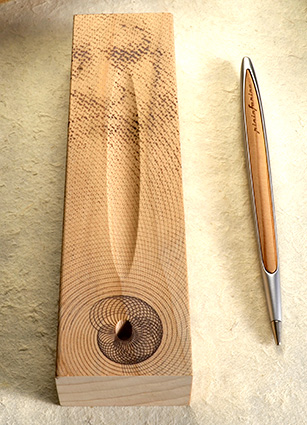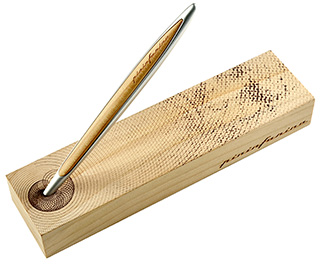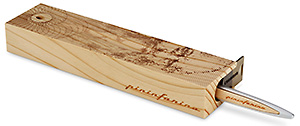 The ETHERGRAF® tip microscopically "scratches" paper, oxidizing it
and leaving a light but indelible stretch.
The common paper - that is the cellulose not trated paper
(formed by vegetable fibers bonded through a process that
is called "felting") - due to its porosity, is in fact a material
which perfectly reacts to the passage of the metal tip.
Cambiano Leonardo pens are made with aluminium and walnut wood inserts.
The tip is Etergraf®: its seems a ballpen, but it isn't. It's not even a pencil, nor a fountain pen. It writes forever, without any ink or refil or lead, with a neat and light line; re-inventing the sixteenth-century oxidation technique used by Leonardo da Vinci in his drawings.
Cambiano Leonardo will be produced for a limited time - only in 2019 - being the 500th anniversary of the death of Leonardo da Vinci.
It's made in the version with Ethergraf® tip, but also in the version with a normal ballpen tip.