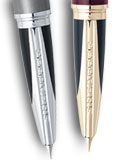 Taranis, named after the Celtic god of Thunder


T

ARANIS
Designed by renowned U.S. architect Charles Debbas, Taranis embodies the perfect balance between classic and modern.
Cap and body in colored lacquer, or in metal, with patented gripping section in black resin and chrome or golden metal.
The pens have different prices, depending on trim finish (chrome or gold plated):
Burgundy lacquer (Stormy wine) with golden trims:


White lacquer (White Lightning) with golden trims:


Black lacquer (Stormy night) with chrome trims:


Grey metal (Icy gunmetal) with chrome trims:


Chrome metal (Sleek chrome) with chrome trims:


Available as fountain pen, but also as roller:

Elongated sleek clips feature White Dot® - the mark of Sheaffer's quality..
Cartridge/converter filled, high quality steel nib for smooth writing experience.
Our order form calculates the shipping costs, which depend on weight, destination and carrier or mail.